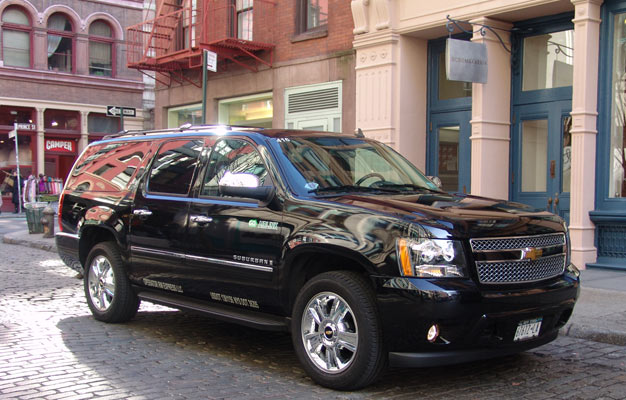 Newark Airport Transfer: Private Transfer
Don't waste your time on public transportation or trying to flag a taxi, prebook our cost-effective private transfer and ensure that your holiday in New York can begin hassle-free. Your private driver will meet you at Newark airport and take you to your hotel on Manhattan.

Highlights:
- Get from the airport to your hotel hassle-free
- Book a private car and travel comfortably
- Get picked up any time, any day
- Everything is included in the price - also tips
- Prices are per car - not per person

Get from the Airport to your Hotel Hassle-free
Our experienced, professional drivers will ensure your transportation to and from Newark airport is a breeze!

Order quick, efficient and private transportation between Newark airport and your hotel from home. Our door-to-door policy ensures transportation both to and from your hotel and Newark Airport-

Book your private Newark airport transfer here, and you will be met by your very own driver in the airport. If you wish, you can also order transportation back again, from your hotel to the airport.

How do I book my private transfer?
Simply follow the booking steps. Before you complete your booking, you will be asked to provide us with passenger names, arrival/departure date, flight details and your hotel (including address and phone number), so we can arrange your transfer.

How do I get my tickets?
Shortly after your booking is complete, you will receive an e-ticket by mail. Please print out your ticket and bring it with you to Newark Airport.

How does it work at the airport?
When you arrive in the airport, your driver will meet you with sign in baggage claim area or outside the customs arrival door.

How do I book a return transfer?
If you wish to order a round trip transfer to Newark Airport, you have to place two orders: One from the airport to your hotel and one from your hotel to the airport as every booking needs its own confirmation number.

I've booked a return transfer, how does it work?
If you would like a return transfer from Manhattan to the airport, you just call our airport agent two-three days before your departure. The phone number will be clearly marked on your ticket.

What kind of car should I choose?
It depends on how many people you are. You can choose between a sedan if you are between 1-3 people, a VIP SUV if you are 4-6 and a van if you are between 7-10 people.

Where does the service operate?
This service only operates on Manhattan between Battery Park and 125th street.

How much luggage can I bring?
You are only allowed one standard suitcase and one piece of hand luggage per person.

What does the price include?
The price includes tips, road toll and taxes. The prices here on the site are listed per car, not per person.

Are there children's tickets?
No, the price is the same for children as for adults.
Açılış saatleri
Operational hours: 24 hours a day, 7 days a week, 365 days a year.
İade edilebilir biletler İade edilebilir biletler
Refundable up to 48 hours before performance date. A cancellation fee of up to 20% pr. ticket may apply
Açılış saatleri
Operational hours: 24 hours a day, 7 days a week, 365 days a year.
Müşteri Hizmetleri

020 3870 3444
Rezervasyonunuzla ilgili yardıma mı ihtiyacınız var? Sorularınızı yanıtlamaktan memnuniyet duyacağız.