Arsenal FC vs Olympiakos Europa League
th, 27 feb 2020

, Emirates Stadium

.

* The final match date and kick-off time is confirmed 5-30 days prior to match day. The best way to verify the final date and time is to check the official club website.
* Weekend matches are always played Saturday or Sunday and on rare occations Friday evening.
* Weekday matches are always played on Tuesday, Wednesday or Thursday.
* Changes within the time frames noted above are wholly beyond our control and we ask that you always take into consideration these possible changes when making your travel plans.
* We will NEVER assign single seats to our customers. We will ensure that your seats are assigned together with your party - acceptable seating may include seats directly in front or directly behind your party. This is our guarantee from us to you!
* You will always be seated among home supporters or in a neutral zone.
* When you have completed your order a confirmation/receipt and your e-tickets will be immediately sent to your e-mail address entered at time of booking.
* All information regarding ticket collection or delivery of your original match tickets will be clearly stated on your e-ticket.
* You will be asked to present a valid photo ID or passport at time of ticket collection as well as the credit card used to purchase the tickets. Please also bring the credit card used to purchase your tickets.
* We highly recommend that you carefully read our terms and conditions prior to purchasing soccer tickets!



If you are from or reside in the same country as the visiting team, you may NOT book tickets for this match on this site.

Club Level Ticket, no meal:
-Premium padded seats in middle ring of stadium
-Blocks 66-78, South East corner of stadium
-Excellent view of pitch
-Conventional paper tickets
-Seats supplied together for individuals and groups
-Complimentary match program collected at stadium, voucher provided
-Complimentary half time drinks ( beer, wine, soft drinks, tea/coffee )
-Complimentary museum visit ( available on MATCH DAY)
-Complimentary stadium tour ( NON-MATCH days only)
-£05.00 merchandise voucher, redeemable in club shop and kiosks
-Food outlets available, grill style menus, informal seating
-Club level doors opens 2.5 hours prior to kick off, all matches
-No dress code
-Children welcome
-Club level is a neutral seating area
-Available to away fans ( no opposition shirts )
-Betting facilities
-All vouchers for tour, museum, and merchandise included with match ticket in delivery envelope
-Sales to non UK consumers only

Club Level Ticket, no meal block 66:
-Premium padded seats in middle ring of stadium
-Blocks 66, South East corner of stadium
-Excellent view of pitch
-Conventional paper tickets
-Seats supplied together for individuals and groups
-Complimentary match program collected at stadium, voucher provided
-Complimentary half time drinks ( beer, wine, soft drinks, tea/coffee )
-Complimentary museum visit ( available on MATCH DAY)
-Complimentary stadium tour ( NON-MATCH days only)
-£05.00 merchandise voucher, redeemable in club shop and kiosks
-Food outlets available, grill style menus, informal seating
-Club level doors opens 2.5 hours prior to kick off, all matches
-No dress code
-Children welcome
-Club level is a neutral seating area
-Available to away fans ( no opposition shirts )
-Betting facilities
-All vouchers for tour, museum, and merchandise included with match ticket in delivery envelope
-Sales to non UK consumers only

POWERED BY TRAVEL CONNECTION
Important information
PLEASE NOTE:
* Vouchers for "Complimentary museum visit", "Complimentary stadium tour" and "the £5 merchandise voucher" are NOT included in tickets bought for international matches!
* The value of these vouchers will be deducted from the ticket price before you make your payment.
If you are from or reside in the same country as the visiting team, you may NOT book tickets for this match on this site.
Arenainfo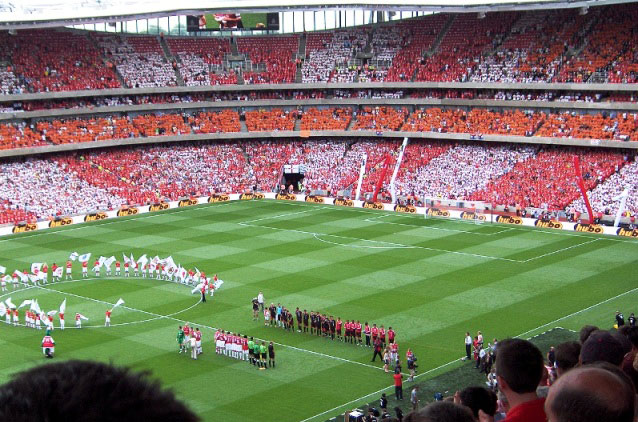 Emirates Stadium
Metro
Arsenal (Piccadilly Line) or Finsbury Park (Victoria, Piccadilly Lines and Great Northern rail)
Busses
29, 253, 254, 259
Capacity
60000
Directions
Emirates Stadium
Address
Arsenal Stadium Avenell Road Highbury London N5 1BU
English helpdesk

020 3870 3444
Need help with your booking? We will gladly answer your questions.