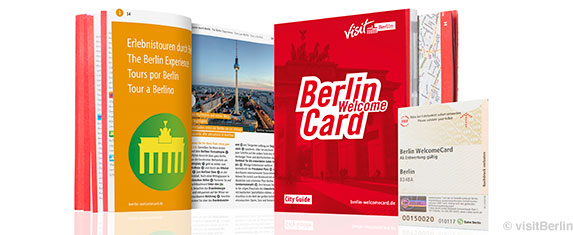 İade edilebilir biletler

Fiyat Eşleştirme Garantisi

En çok satan









Berlin WelcomeCard
Enjoy unlimited use of public transportation with a Berlin WelcomeCard! With this card you get discounts of up to 50% at many museums, guided tours, restaurants, theatres and attractions. When it comes to travelling, you choose the zones (either AB or ABC) and for how long you wish to use the Berlin WelcomeCard.
Rezervasyon yap
Muhteşem:
4.5
– 373

yorum
İade edilebilir biletler İade edilebilir biletler
Refundable up to 48 hours before performance date. A cancellation fee of up to 20% pr. ticket may apply
Fiyat Eşleştirme Garantisi Fiyat Eşleştirme Garantisi
Rezervasyonunuzu tamamlamanızdan sonraki 48 saat içinde, bu ürün için daha düşük bir reklam fiyatı ile karşılaşmanız durumunda; fiyat farkının tam olarak iadesini taahhüt ediyoruz. Bizimle rezervasyon yaptığınızda mümkün olan en düşük fiyatı almanız garanti edilir.
Neler dahil?
- Unlimited use of public transportation in either fare zones Berlin AB or zone ABC.
- Card valid for either 48 or 72 hours - or 4, 5 or 6 days.
- Up to 50% discount.
- A pocket guide with tour suggestions and a city map.
- Bring up to 3 children of the age of 14 and under - they travel free of charge.
Müşteri Hizmetleri

020 3870 3444
Rezervasyonunuzla ilgili yardıma mı ihtiyacınız var? Sorularınızı yanıtlamaktan memnuniyet duyacağız.